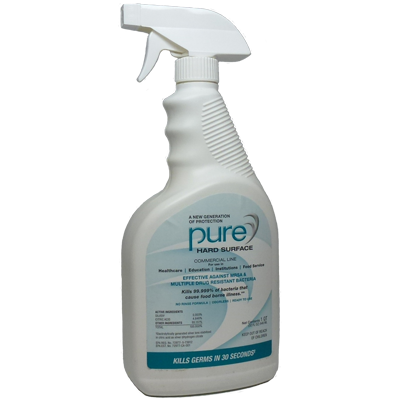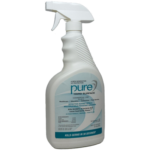 Pure Hard Surface Disinfectant Spray 32oz
$16.00
*Due to Limited Supply: Quantity Maximum of only 2 per customer at this time
Twenty times faster than the leading disinfectants, Pure Hard Surface is the next generation of microbial control. EPA toxicity rated as Category IV (lowest) for humans and animals, this product is deadly to bacteria, fungus and virus, including MRSA and VRE.
Description
Additional information
Description
It's tough on bacteria, but kind to humans. Unlike traditional antimicrobials, bacteria are actually attracted to the active ingredient (Silver Dihydrogen Citrate or SDC), because they recognize it as a food source. This allows SDC to easily enter the microorganism, where it binds to DNA and causes irreversable damage to the DNA and protein structure. This causes the organism to die. Viruses are smaller than bacterial and fungal cells, and do not have metabolic activity. In this case, the SDC targets the viral envelope and nucleic acid, destroying it and preventing the virus from attaching to a host cell, which destroys the infectious component of the virus, the nucleic acid.
POWERFUL: Broad sectrum protection as a disinfectant, fungicide and virucide, it is effective against resistant bacteria such as MRSA and VRE.
FAST: Kills germs in 30 seconds
LONG LASTING: Provides residual protection for 24 hours
SAFE: Lowest toxicity rating available
Spray, pour or spread Pure Hard Surface on the surface until thoroughly wet. Let stand for 60 seconds and wipe with a clean towel or allow to air dry. No rinsing is required.
This product kills 99.999% of Escherichia coli and Staphylococcus aureus.
This product is available for purchase by the public.